Stop Lamp Switches
- Please read description for exact fitment
- Our parts are tested and in good condition
- Any damage is mentioned in description
- Please contact us if you have any questions
- Shipping can be arranged for our parts listed as local pickup.
⭐⭐ OEM NISSAN LEAF INFINITI Q50 BRAKE LIGHT LAMP PEDAL SWITCH BLACK 25320-3NA1B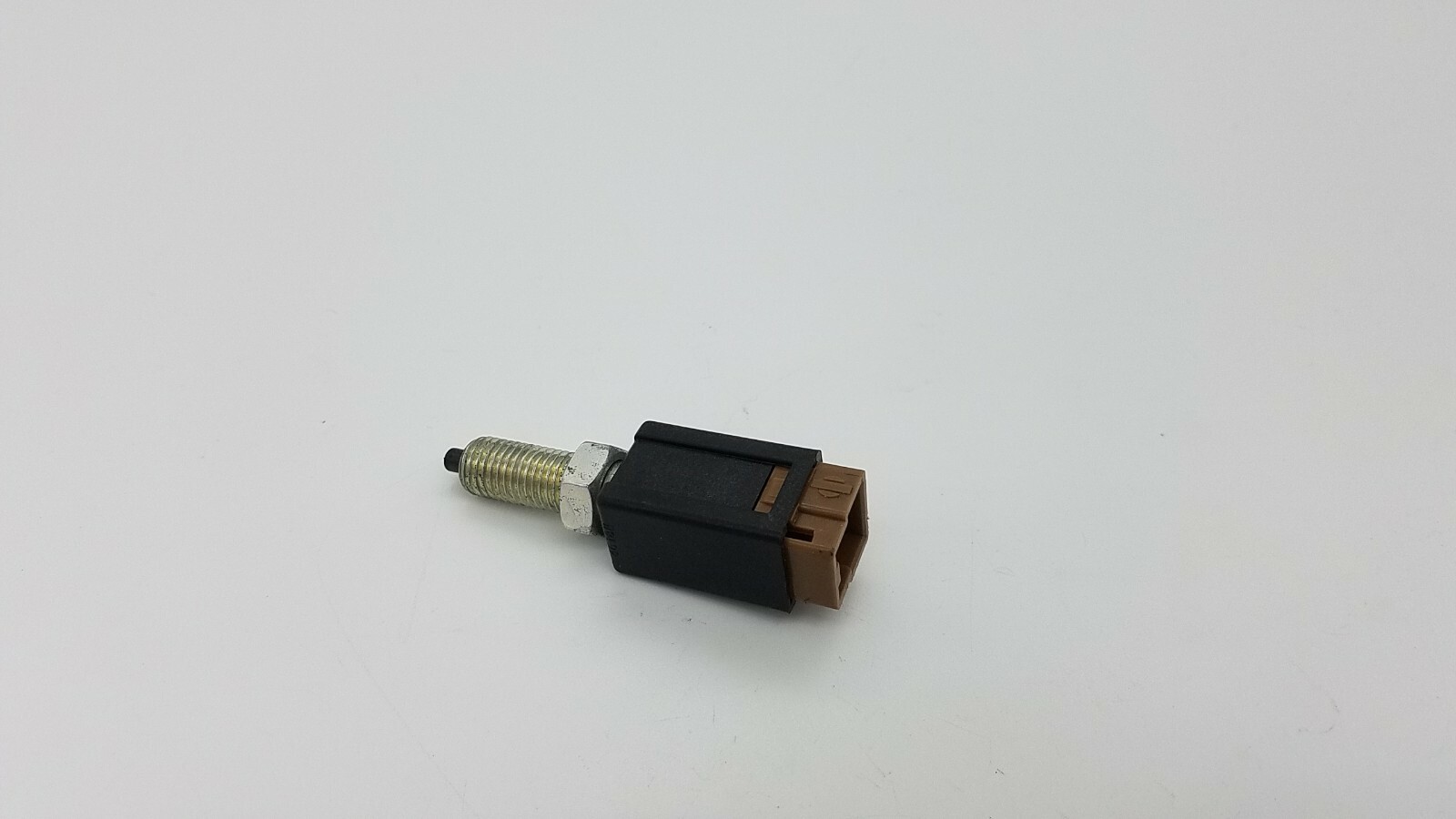 ⭐⭐ OEM NISSAN LEAF, INFINITI Q50 Q60 QX50 BRAKE LIGHT LAMP PEDAL SWITCH BLACK ⭐⭐
#IS-7-1291
Pedal Switch
Brake Light lamp
$ 20.00
Product Description
Product Name: ⭐ 2011-2019 NISSAN LEAF, 2014-2019 INFINITI Q50, 2017-2019 Q60, 2019 QX50 BRAKE LIGHT LAMP PEDAL SWITCH
FITMENTS:
2014-2019 Q50 2.0L 3.0L 3.5L 3.7L
2017-2019 Q60 2.0L 3.0L
2019 QX50 2.0L
2011-2019 Leaf Electric
Payment Information
We accept Paypal, Visa and MasterCard
Sales tax will be applied to all orders shipped to the state of FL.
Pay on pickup and COD available for orders placed for local pickup
Shipping Information
We ship by FedEx, UPS, USPS, and regional freight/LTL carriers.
Items shipped by freight MUST be shipped to a business with a dock or forklift access; otherwise, liftgate and/or residential delivery fees may apply.
Local pickup options are also available.
Returns Information
Standard 30-day warranty on all mechanical parts
Please verify fitment independently prior to purchase, as the information in the "compatibility" section above is generated by eBay Motors and not from us.
If you have questions or concerns about fitment, please contact us prior to purchase.
Item Compatibility List
| Year | Make | Model | Trim | Engine | Notes |
| --- | --- | --- | --- | --- | --- |
| 2019 | Infiniti | Q50 | Luxe Sedan 4-Door | 3.0L 2997CC V6 GAS DOHC Turbocharged | Leaf, Q50, Q60, QX50 |
| 2019 | Infiniti | Q50 | Pure Sedan 4-Door | 2.0L 1991CC l4 GAS DOHC Turbocharged | Leaf, Q50, Q60, QX50 |
| 2019 | Infiniti | Q50 | Red Sport Sedan 4-Door | 3.0L 2997CC V6 GAS DOHC Turbocharged | Leaf, Q50, Q60, QX50 |
| 2019 | Infiniti | Q50 | Sport Sedan 4-Door | 3.0L 2997CC V6 GAS DOHC Turbocharged | Leaf, Q50, Q60, QX50 |
| 2019 | Infiniti | Q60 | Luxe Coupe 2-Door | 3.0L 2997CC V6 GAS DOHC Turbocharged | Leaf, Q50, Q60, QX50 |
| 2019 | Infiniti | Q60 | Pure Coupe 2-Door | 3.0L 2997CC V6 GAS DOHC Turbocharged | Leaf, Q50, Q60, QX50 |
| 2019 | Infiniti | Q60 | Red Sport 400 Coupe 2-Door | 3.0L 2997CC V6 GAS DOHC Turbocharged | Leaf, Q50, Q60, QX50 |
| 2019 | Infiniti | QX50 | Essential Sport Utility 4-Door | 2.0L 1997CC l4 GAS DOHC Turbocharged | Leaf, Q50, Q60, QX50 |
| 2019 | Infiniti | QX50 | Luxe Sport Utility 4-Door | 2.0L 1997CC l4 GAS DOHC Turbocharged | Leaf, Q50, Q60, QX50 |
| 2019 | Infiniti | QX50 | Pure Sport Utility 4-Door | 2.0L 1997CC l4 GAS DOHC Turbocharged | Leaf, Q50, Q60, QX50 |
| 2019 | Nissan | Leaf | S Hatchback 4-Door | ELECTRIC | Leaf, Q50, Q60, QX50 |
| 2019 | Nissan | Leaf | S Plus Hatchback 4-Door | ELECTRIC | Leaf, Q50, Q60, QX50 |
| 2019 | Nissan | Leaf | SL Hatchback 4-Door | ELECTRIC | Leaf, Q50, Q60, QX50 |
| 2019 | Nissan | Leaf | SL Plus Hatchback 4-Door | ELECTRIC | Leaf, Q50, Q60, QX50 |
| 2019 | Nissan | Leaf | SV Hatchback 4-Door | ELECTRIC | Leaf, Q50, Q60, QX50 |
| 2019 | Nissan | Leaf | SV Plus Hatchback 4-Door | ELECTRIC | Leaf, Q50, Q60, QX50 |
| 2018 | Infiniti | Q50 | Hybrid Luxe Sedan 4-Door | 3.5L 3498CC V6 ELECTRIC/GAS DOHC Naturally Aspirated | Leaf, Q50, Q60, QX50 |
| 2018 | Infiniti | Q50 | Luxe Sedan 4-Door | 2.0L 1991CC l4 GAS DOHC Turbocharged | Leaf, Q50, Q60, QX50 |
| 2018 | Infiniti | Q50 | Luxe Sedan 4-Door | 3.0L 2997CC V6 GAS DOHC Turbocharged | Leaf, Q50, Q60, QX50 |
| 2018 | Infiniti | Q50 | Pure Sedan 4-Door | 2.0L 1991CC l4 GAS DOHC Turbocharged | Leaf, Q50, Q60, QX50 |
| 2018 | Infiniti | Q50 | Red Sport Sedan 4-Door | 3.0L 2997CC V6 GAS DOHC Turbocharged | Leaf, Q50, Q60, QX50 |
| 2018 | Infiniti | Q50 | Sport Sedan 4-Door | 3.0L 2997CC V6 GAS DOHC Turbocharged | Leaf, Q50, Q60, QX50 |
| 2018 | Infiniti | Q60 | Luxe Coupe 2-Door | 2.0L 1991CC l4 GAS DOHC Turbocharged | Leaf, Q50, Q60, QX50 |
| 2018 | Infiniti | Q60 | Luxe Coupe 2-Door | 3.0L 2997CC V6 GAS DOHC Turbocharged | Leaf, Q50, Q60, QX50 |
| 2018 | Infiniti | Q60 | Pure Coupe 2-Door | 2.0L 1991CC l4 GAS DOHC Turbocharged | Leaf, Q50, Q60, QX50 |
| 2018 | Infiniti | Q60 | Red Sport 400 Coupe 2-Door | 3.0L 2997CC V6 GAS DOHC Turbocharged | Leaf, Q50, Q60, QX50 |
| 2018 | Infiniti | Q60 | Sport Coupe 2-Door | 3.0L 2997CC V6 GAS DOHC Turbocharged | Leaf, Q50, Q60, QX50 |
| 2018 | Nissan | Leaf | S Hatchback 4-Door | ELECTRIC | Leaf, Q50, Q60, QX50 |
| 2018 | Nissan | Leaf | SL Hatchback 4-Door | ELECTRIC | Leaf, Q50, Q60, QX50 |
| 2018 | Nissan | Leaf | SV Hatchback 4-Door | ELECTRIC | Leaf, Q50, Q60, QX50 |
| 2017 | Infiniti | Q50 | Base Sedan 4-Door | 2.0L 1991CC l4 GAS DOHC Turbocharged | Leaf, Q50, Q60, QX50 |
| 2017 | Infiniti | Q50 | Hybrid Premium Sedan 4-Door | 3.5L 3498CC V6 ELECTRIC/GAS DOHC Naturally Aspirated | Leaf, Q50, Q60, QX50 |
| 2017 | Infiniti | Q50 | Premium Sedan 4-Door | 2.0L 1991CC l4 GAS DOHC Turbocharged | Leaf, Q50, Q60, QX50 |
| 2017 | Infiniti | Q50 | Premium Sedan 4-Door | 3.0L 2997CC V6 GAS DOHC Turbocharged | Leaf, Q50, Q60, QX50 |
| 2017 | Infiniti | Q50 | Red Sport Sedan 4-Door | 3.0L 2997CC V6 GAS DOHC Turbocharged | Leaf, Q50, Q60, QX50 |
| 2017 | Infiniti | Q50 | Sport Sedan 4-Door | 2.0L 1991CC l4 GAS DOHC Turbocharged | Leaf, Q50, Q60, QX50 |
| 2017 | Infiniti | Q50 | Sport Sedan 4-Door | 3.0L 2997CC V6 GAS DOHC Turbocharged | Leaf, Q50, Q60, QX50 |
| 2017 | Infiniti | Q60 | Base Coupe 2-Door | 2.0L 1991CC l4 GAS DOHC Turbocharged | Leaf, Q50, Q60, QX50 |
| 2017 | Infiniti | Q60 | Premium Coupe 2-Door | 2.0L 1991CC l4 GAS DOHC Turbocharged | Leaf, Q50, Q60, QX50 |
| 2017 | Infiniti | Q60 | Premium Coupe 2-Door | 3.0L 2997CC V6 GAS DOHC Turbocharged | Leaf, Q50, Q60, QX50 |
| 2017 | Infiniti | Q60 | Red Sport 400 Coupe 2-Door | 3.0L 2997CC V6 GAS DOHC Turbocharged | Leaf, Q50, Q60, QX50 |
| 2017 | Infiniti | Q60 | Sport Coupe 2-Door | 3.0L 2997CC V6 GAS DOHC Turbocharged | Leaf, Q50, Q60, QX50 |
| 2017 | Nissan | Leaf | S Hatchback 4-Door | ELECTRIC | Leaf, Q50, Q60, QX50 |
| 2017 | Nissan | Leaf | SL Hatchback 4-Door | ELECTRIC | Leaf, Q50, Q60, QX50 |
| 2017 | Nissan | Leaf | SV Hatchback 4-Door | ELECTRIC | Leaf, Q50, Q60, QX50 |
| 2016 | Infiniti | Q50 | Base Sedan 4-Door | 2.0L 1991CC l4 GAS DOHC Turbocharged | Leaf, Q50, Q60, QX50 |
| 2016 | Infiniti | Q50 | Hybrid Premium Sedan 4-Door | 3.5L 3498CC V6 ELECTRIC/GAS DOHC Naturally Aspirated | Leaf, Q50, Q60, QX50 |
| 2016 | Infiniti | Q50 | Premium Sedan 4-Door | 2.0L 1991CC l4 GAS DOHC Turbocharged | Leaf, Q50, Q60, QX50 |
| 2016 | Infiniti | Q50 | Premium Sedan 4-Door | 3.0L 2997CC V6 GAS DOHC Turbocharged | Leaf, Q50, Q60, QX50 |
| 2016 | Infiniti | Q50 | Red Sport Sedan 4-Door | 3.0L 2997CC V6 GAS DOHC Turbocharged | Leaf, Q50, Q60, QX50 |
| 2016 | Infiniti | Q50 | Sport Sedan 4-Door | 3.0L 2997CC V6 GAS DOHC Turbocharged | Leaf, Q50, Q60, QX50 |
| 2016 | Nissan | Leaf | S Hatchback 4-Door | ELECTRIC | Leaf, Q50, Q60, QX50 |
| 2016 | Nissan | Leaf | SL Hatchback 4-Door | ELECTRIC | Leaf, Q50, Q60, QX50 |
| 2016 | Nissan | Leaf | SV Hatchback 4-Door | ELECTRIC | Leaf, Q50, Q60, QX50 |
| 2015 | Infiniti | Q50 | Base Sedan 4-Door | 3.7L 3696CC V6 GAS DOHC Naturally Aspirated | Leaf, Q50, Q60, QX50 |
| 2015 | Infiniti | Q50 | Hybrid Premium Sedan 4-Door | 3.5L 3498CC V6 ELECTRIC/GAS DOHC Naturally Aspirated | Leaf, Q50, Q60, QX50 |
| 2015 | Infiniti | Q50 | Hybrid Sport Sedan 4-Door | 3.5L 3498CC V6 ELECTRIC/GAS DOHC Naturally Aspirated | Leaf, Q50, Q60, QX50 |
| 2015 | Infiniti | Q50 | Premium Sedan 4-Door | 3.7L 3696CC V6 GAS DOHC Naturally Aspirated | Leaf, Q50, Q60, QX50 |
| 2015 | Infiniti | Q50 | Sport Sedan 4-Door | 3.7L 3696CC V6 GAS DOHC Naturally Aspirated | Leaf, Q50, Q60, QX50 |
| 2015 | Nissan | Leaf | S Hatchback 4-Door | ELECTRIC | Leaf, Q50, Q60, QX50 |
| 2015 | Nissan | Leaf | SL Hatchback 4-Door | ELECTRIC | Leaf, Q50, Q60, QX50 |
| 2015 | Nissan | Leaf | SV Hatchback 4-Door | ELECTRIC | Leaf, Q50, Q60, QX50 |
| 2014 | Infiniti | Q50 | Base Sedan 4-Door | 3.7L 3696CC V6 GAS DOHC Naturally Aspirated | Leaf, Q50, Q60, QX50 |
| 2014 | Infiniti | Q50 | Hybrid Premium Sedan 4-Door | 3.5L 3498CC V6 ELECTRIC/GAS DOHC Naturally Aspirated | Leaf, Q50, Q60, QX50 |
| 2014 | Infiniti | Q50 | Hybrid Sport Sedan 4-Door | 3.5L 3498CC V6 ELECTRIC/GAS DOHC Naturally Aspirated | Leaf, Q50, Q60, QX50 |
| 2014 | Infiniti | Q50 | Premium Sedan 4-Door | 3.7L 3696CC V6 GAS DOHC Naturally Aspirated | Leaf, Q50, Q60, QX50 |
| 2014 | Infiniti | Q50 | Sport Sedan 4-Door | 3.7L 3696CC V6 GAS DOHC Naturally Aspirated | Leaf, Q50, Q60, QX50 |
| 2014 | Nissan | Leaf | S Hatchback 4-Door | ELECTRIC | Leaf, Q50, Q60, QX50 |
| 2014 | Nissan | Leaf | SL Hatchback 4-Door | ELECTRIC | Leaf, Q50, Q60, QX50 |
| 2014 | Nissan | Leaf | SV Hatchback 4-Door | ELECTRIC | Leaf, Q50, Q60, QX50 |
| 2013 | Nissan | Leaf | S Hatchback 4-Door | ELECTRIC | Leaf, Q50, Q60, QX50 |
| 2013 | Nissan | Leaf | SL Hatchback 4-Door | ELECTRIC | Leaf, Q50, Q60, QX50 |
| 2013 | Nissan | Leaf | SV Hatchback 4-Door | ELECTRIC | Leaf, Q50, Q60, QX50 |
| 2012 | Nissan | Leaf | SL Hatchback 4-Door | ELECTRIC | Leaf, Q50, Q60, QX50 |
| 2012 | Nissan | Leaf | SV Hatchback 4-Door | ELECTRIC | Leaf, Q50, Q60, QX50 |
| 2011 | Nissan | Leaf | SL Hatchback 4-Door | ELECTRIC | Leaf, Q50, Q60, QX50 |
| 2011 | Nissan | Leaf | SV Hatchback 4-Door | ELECTRIC | Leaf, Q50, Q60, QX50 |